What a bittersweet way to end what was a great month, a lockdown which means I'm separated from my boyfriend in Sydney and friends in Wollongong. It's awful that this virus is putting people at risk, and I wish there was a world in which we were all vaccinated, but, here we are. I'm glad that we can take steps to protect our community, but at the same time, we can confidently say, this sucks.
I've been reflecting on how I was feeling during lockdown and restrictions in 2020. And I'm not sure about you but in the early stages of last year, there was a kind of novelty to it. Masks, social distancing, hotspots were all words that made a grand entrance into our vernacular. Now, I'm fucking over it. It sucks that it's impossible to make plans, to see loved ones, and figure out what you can and can't do. It sucks that life can be so 'normal' one minute and chaotic and out of control the next. You think you're taking one step forward but feels like you're being pushed 50 steps back.
The thing that keeps me going through these times of uncertainty, is my complete belief that this is making me and us stronger. That with each setback, I'm challenged in new ways to step up. We are all making sacrifices to protect each other. COVID has changed our world in ways we couldn't have expected. Our community has banded together in ways we never have. We're thinking more like a collectivist society, putting our individuals needs, goals and dreams to the side while we consider how our actions might affect others. And that's kind of special if you ask me.
It's hard, it's shit, it's scary, and who knows when it will end. But I know that when it does, those hugs with loved ones will feel even better and we will be stronger together.
Pre-COVID outbreak in Sydney
A weekend at home
Before Madyy's wedding I spent the night at home in Port Stephens. There's nothing better than going for a walk up Tomaree and being reminded of just how gorgeous home really is. Elly and I even went for a dip to get the heart racing and it was truly spectacular.
Madyy and Rocco's Wedding
My beautiful cousin Madyy tied the knot with the very lucky Rocco on a beautiful June afternoon. You honestly couldn't have picked a more beautiful day in Winter with a couple more perfect for each other. It was so lovely to see my family and be a part of such a gorgeous and beautiful day! Love the Martins!
Sydney fun feat Angry Angus' infamous pizza
A fun weekend in Sydney made special by Angus cooking up a storm and making us pizza and espresso martinis. John kindly hosted and we had a little fire pit going, an epic cheese board and great catchups with some beautiful people. No house party is complete without D+M's (thanks Michael).
Writing this in July, it makes me so happy I got to have a big bang of a last weekend in Sydney for a while. I'll be back to party with you very soon.
Canberra adventures
After many weekends away, it was really special to take some time to enjoy what Canberra has to offer – I guess you have to be careful what you wish for because I won't be leaving anytime soon. But it was the perfect time to be reminded of how beautiful Canberra is and the amazing people I get to share it with.
Whether it's going to the pub to watch the footy or grab a parmi, go for a hike or parkrun, start up the fire and spend the afternoon drinking wine… I'm so glad I got the chance to embrace the many joys that Canberra has to offer.
Snow day!
I had my first snow adventure with no other than the ultimate snow bunny, Erica! Eri came down on a Friday and we hit the pub and went out for some dinner and wine. We set our alarms at an ungodly hour on the Saturday to head off to Perisher and were treated to a gorgeous sunrise. After a bit of traffic and a big ol trek down the road (parking was insane) we finally hit the slopes!
It was SO MUCH FUN! I haven't been skiing in what feels like forever. It was snowing the entire day which was pretty magical. We explored some of the mountain and tried not to fall over. It was bloody beautiful and I'm so glad I got to have my first day on the slopes with Erica.
Sadly, it was at 2pm that day that it was announced Greater Sydney was going into lockdown so our little Canberra hangout was cut short but it was so much fun while it lasted. Can't wait to go again with ya gal!
Flicks
It's A Sin
I have no words for how hauntingly beautiful this show is. It's only 5 episodes but each episode will make your heart swell while simultaneously breaking it. This show tells the story of a group of young queer men living in London in the 80s and 90s during the AIDS crisis. If you don't know much about this time, you will find it truly disturbing and heartbreaking. You will fall in love with the characters as they did such justice to the complex lives of young queer men in such a terrifying time.
Broadchurch
One hungover day in Sydney, John and I watched the whole season of this show. WOW! It is so incredible. It's a British murder mystery set in a small town, where the murder of a young boy exposes the towns secrets. It will have you guessing the whole time (though I did manage to guess it correctly).
Tunes
Sly Withers
Umm a big hello there! Who are these guys, where did they come from and when are you touring so I can release my inner punk goddess?! Sly Withers have been on my radar for some time now, to the point that I was eagerly anticipating their new album and damn it does not disappoint! The whole album is pure magic! They even covered Colplay for Like A Version and it is seriously incredible.
Fave song: Sleep on the weekends
Books
The Happiest Man On Earth, by Eddie Jaku
John's sister Steph has great taste in books, so I was stoked when she leant me this one. It was one I took my time with because as easy as it is to read, a lot of the simple parts are very profound and I wanted to let it sink in. It's a gorgeous read and as the title suggests, it will leave you feeling optimistic and happy no matter what challenges you face.
Who Gets To Be Smart, by Bri Lee
Power and privilege in the Australian education system? Where do I read more! Well look no further than Bri Lee's incredible new book examining education in Australia from primary school to universities. As someone who is a fierce advocate for public schools (and product of one), plus someone who studied at university and worked in tertiary education for 5 years, I found it beautifully tying together many points I had already encountered. While some schools spend funding on much needed maintenance like flooding bathrooms, others (private schools) are spending public funding on building orchestra pits and Olympic sized swimming pools. This is something I'm really passionate about and am keen to explore more and I thank Bri for starting such an important conversation.
I had the pleasure of hearing her speak at a recent event hosted by the Australia Institute with my friend Vanessa. It was so great hearing her speak and elaborate on some of her points – it was even better when someone mistook me for her and I had to awkwardly explain that I wasn't (thanks for the compliment though!)
Product
Alpha H SPF 50 moisturiser
I was after a new daytime moisturiser for winter when I came across Alpha H. I thought I would go out on a limb and try something new and I'm pleasantly surprised by this product. While it's certainly not enough SPF to provide enough protection to your face, it's perfect for my short winters days in Canberra commuting to and from the office. It's fragrance free, slightly oily but I think it gives a nice glow. It's sits really nicely under makeup and means I am hydrated and protected throughout my day. It's on sale now at Adore Beauty for $55.80.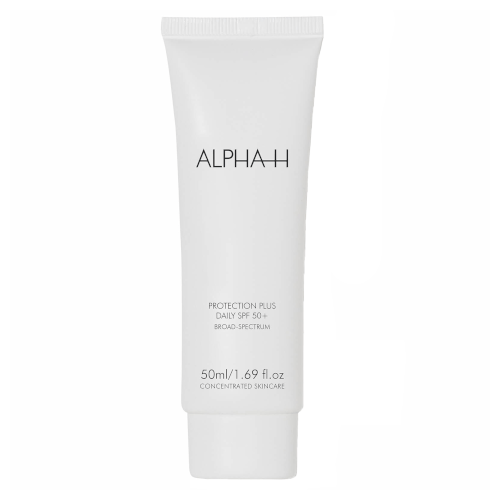 I'm writing this sign off a few weeks into July and my optimism is certainly being challenged with the currently situation – as I'm sure many people's are. My goal is to focus on the small things that I can control, find joy nearby, reach out and connect with friends and take it one day at a time. I know that we will be reunited soon (hopefully fully or partially vaccinated) and life will one day again look a little more familiar.
Wishing you all safety and strength x