So somehow it's May… when did that happen?! I think I lost track of time between long weekends, stressful work days and smashing some personal bests with my running. This month I've been really proud of the way I've been able to step up and take initiative and stand up for myself. I've been having a pretty challenging time at work, adjusting to a new workplace culture, new management style and a new role (all in a new city). I'm super grateful for my incredibly kind and supportive colleagues, but I've certainly been questioning my capabilities which has taken a toll on my confidence. It's hard not to spiral when your confidence falls, questioning why you've made these decisions and questioning where you've ended up.
I've been really grateful for the incredibly supportive people who have reminded me of who I am, what I contribute and how I am valued. While it may sound like a cry for validation, positive reinforcement, it's so much more than that. It has meant the world being able to reconnect to my values, my skills, my experiences and what makes me special. I am special and so are you – if anyone makes you feel like you're not special, you've really got to consider whether you need that person in your life or not.
While the past few weeks have certainly been challenging, I've dug deep, been brave and stepped up so that I can get through these challenging times. I feel like I've grown an exponential amount, being able to communicate clearly and confidently to attempt to resolve conflict, while also making the concious effort to not take certain things on, because it doesn't fill my cup.
At the end of the day, there will always be people out there who do not want the best for you, question your intentions and attempt to bring you down. As the beautiful Michelle Obama said, when they go low, we go high. So higher and higher I will strive to continue to fly.
Easter adventures
Hands down one of the best things about April is the number of public holidays we're able to squeeze into the month! So over the glorious Easter long weekend, John and I headed up to Port Stephens to enjoy some sunshine and celebrate my Mum's birthday! It's always nice going home and even nicer to celebrate such a special and beautiful woman like my Mum.
Some of John's friends joined us at Murray's Brewery for a much needed beverage in the sun and we spend the evening on the balcony eating cheese and drinking beer. On Sunday we were treated to some glorious weather and we went exploring to our secret island, and honestly is there anything better than jumping off a rock into the water? I love love loved it and love brining people to enjoy the beauty of Port Stephens.
After our weekend in Port Stephens we headed to Sydney to spend time with John's family. We headed to Manly for lunch and soaked up the beautiful vibes of being by the beach. It was such a lovely day out spent with John's family – I even got a few cuddles from little baby Jack!
Yours & Owls
The festival we never thought would happen finally happened! Scheduled for October of 2020, I think I bought tickets over a year ago and with all of the cancelling and rescheduling, I'd considered my ticket a donation to Yours & Owls. Despite countless challenges, the legends at Y&O managed to pull off NSW's first COVID-safe festival and boy oh boy was it great! Two days of back to back bangers was so much fun! Big shout out to Elly for letting us have pres on your front balcony. I had my first chip on a stick (I don't know what I've been doing with my life) and we boogied away to Lime Cordiale, Smith Street Band, Hayden James, Tones and I and Slowly Slowly – oh and Blue was obviously the superior section!
ANZAC Day long weekend
And another long weekend rolled around. ANZAC Day is always a special day in our family, not only with Isaac currently serving but with a lot of family members having served. Our family came down to Canberra so we could go and watch Isaac march out in Captain's Flat. It was so lovely to have everyone over – including my beautiful Grandma – for brekky and dinner. Then I discovered my new favourite pub, the Old Canberra Inn. We headed there (with a bit of an embarrassing detour of my behalf) to play two up, eat some schnitty and down some pints! An absolutely epic long weekend and I couldn't be more grateful for my family for coming together and enjoying eachothers company.
Celebrating our 30th
While I'm not quite 30 myself, the organisation I work for celebrated its 30th birthday! I was respsonbile for pulling off our 30th birthday (which, if I say so myself – went pretty damn well!). It's always hard starting a new job, let alone being handed the responsibiltiy of delivering a milestone event. While it was certainly a bit of a whirlwind, I'm so proud that I not only pulled it off, I kinda nailed it! Shoutout to my awesome colleagues who got me across the line and helped me make the magic happen.
Colours of Autumn
Just thought I'd share some of these gorgeous photos of the beach, the river, the lake and the trees I've been soaking in. Isn't Autumn just the best?!
Flicks
The Serpent
You know that I've been loving shows that satisfy the travel bug within me. The Serpent certainly does that (but in a bit of a messed up way). It's a bit of a slow burn but absolutely worth it! It's an epic show based on the true story of a French serial killer throughout the 'hippie highway' in the 70s. 110% recommend!
A Fantastic Woman
I bit the bullet and tried out my first bath in my new place – despite the lukewarm water (seems we're having some hot water issues… not ok as we are about to enter winter!), I lit a candle and set up with my laptop to watch this gorgeous movie soaked in bubbles. This took a turn I really wan't expecting and thought was beautiful and heart wrenching. It tells the story of a trans woman who experiences severe isolation after the passing of her secret boyfriend in Chile. It's in Spanish but hey – I think you're brave enough to overcome the subtitles for this incredible film.
Tunes
deja vu, Olivia Rodrigo
Yep, basic bitch status has been achieved. But seriously Olivia girl who hurt you?! At such a young age she is absolutely killing it and producing absolute bangers. I've had her songs on repeat and believe she's about to release an album… she's certainly on my radar!
R U High, The Knocks and Mallrat
I have had this banger on repeat. Such a good tune to listen when you're on your way home from work on a Friday and getting pumped for those after work drinks!
Books
What Alice Forgot, Liane Moriaty
So I was a bit slack on reading this month (oops) and I think it's because I got stuck on this book. For 400 pages it just didn't really do it for me. Nonetheless, I persevered. It was nice. That's all I really have to say. I've got some much better books on my to read pile, so check in next month for those updates.
We Are All Burnt Out, The Cut
I have been recommending this episode of the Cut to everyone and anyone who will listen. I was listening to this episode on a drive up to Sydney and I honestly felt like it was specifically addressed to me. It is a MUST listen. It talks about identify and who we are when we place so much value on what we do (our jobs), how toxic workplace culture can affect you and why it's so important to have things outside of your job that spark joy!
Product
It's actually an oldie but I've never had so much appreciation for it – my Garmin watch! Ever since getting it I've been getting super into my running and think that I can finally call myself a runner. My goal this year is to run a half marathon (21.1km) and this month I smashed my longest run of 10kms! Despite the below zero mornings, I've been dragging myself out of bed to run to the lake and get my heart rate up and get sweaty. I've also beat my parkrun 5km PB and I'm nearly at my goal of doing it in under 30 minutes.
Might be a strange one, and also may not be entirely because of my watch, but I'm so proud of myself for pushing myself and really dedicating the time to improving my style, strength and endurance. So Garmin if you're reading, I'm happy to be sponsored by you!
I picked up my Garmin from Rebel when it was 50% off so keep an eye on their website for some pretty awesome deals!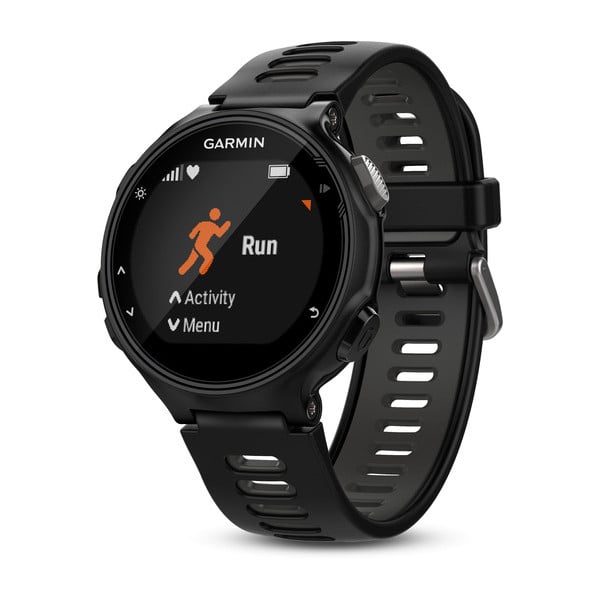 Well, April what a month you were. I feel stronger, professionally, mentally and physically, and I've never felt more connected to the people in my life who matter the most. The next month is pretty full on with LITERALLY every weekend booked out for the month. But hey, I'm going to take it slow, take time for myself and take it easy.
I hope May is kind to you, I hope you're kind to yourself and remember to make some time for fun and joy!