Do you remember… the 21st night of September? Well I'm not sure, but it seems that Earth, Wind and Fire do! How the heck is it October already?! We're on the home stretch of the year, Christmas is right around the corner, and soon I'll be trying to recap 2019, half way through 2020! Before it gets away from us, let's take a look back on the month that was. This month I decided to do a dry month. Dry July just doesn't suit my whole birthday schedule, so I opted for a sober September instead. A whole blog post will be coming on this topic, but upon reflection, maybe it meant I didn't go out as much, but it gave me some much needed clarity and 'me time' to reflect on where I'm at, and where I'm going.
🏃 Blackmores Bridge Run
When was the last time you got to run across the Sydney Harbour Bridge? No not on the sidewalk for plebs… on the road, on the bridge? That's right… probably never! That is by far the coolest thing about running 10km at 8am on a sunny weekend. Luckily I had the company of my sister as we ran, walked and talked our way through Sydney. It was an absolutely smashing day, and we enjoyed a well deserved pub feed at the end of it! I'll definitely be signing up for this next year and I would totally recommend you do it too!
🏠 Home
Sometimes you just need a little trip back home to put everything in perspective. Whilst it was a whirlwind trip, and I managed to read a whole book on my epic train ride, it was totally worth it. Seeing friends and family is so important. I don't do it enough but I soak up every second and am very grateful to have such supportive people around me. Oh and I saw my cute dogs… what else could you want?
💪Standing up for myself (without the guilt)
This month has been pretty hectic. More hectic than usual. I've been feeling stress and pressure in every avenue of my life. That feeling of being helpless in watching things around you collapse and bend under pressure is horrible. In times like this, I strip it back to basics. Back to my core values, respect and honesty. There have been several instances this month where flash decisions and things have been said without my consultation and in a brazen way. Well that just doesn't fly with me. So, I took a deep breath, I took a moment, and I summoned up the courage to speak up and say that I'm hurt and don't feel respected. Wow. By setting those clear boundaries, and summoning the courage to speak up about it, invited a conversation about best practices and how we can respect one another more often.
So even when it's scary, and even when it might be easier to not say anything, I'd really encourage you to stand up and speak up for yourself. In any aspect of your life, it's important to draw the line, and then call someone out when they overstep that boundary. I am so here for this! So here's a nice little quote that really resonated with me.
🎥 Flicks
The Big Short
Yes it has taken me until now to watch this movie… and wow! And if you, like me, have been putting it off, well there's no better time than the present! This movie is amazing and I can't believe it took me this long to watch it! Dad, you'll really enjoy this one!
📚 Books
Mama Mia
My love for reading is back thanks to Mia Freedman! WOW! Once I picked this book up, I seriously could not put it down. I think I mistakenly judged Mia Freedman too early, it's funny how other people's opinions can tint your perspective of someone. But this book smashed down all of my preconceived ideas of Mia and gave me a beautiful insight into her world. I was enthralled reading her chapter about emotionally abusive relationships and heartbroken reading about her challenge to fall pregnant and her experience with miscarriage. Plus it was a bonus that she is all things communications and media (right up my alley). I seriously adore this book and can't wait to check out her other books!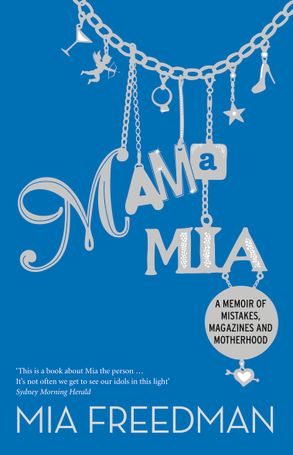 📷 Bloggers, vloggers and podders
Eva zu Beck
If you love YouTube and travel vloggers, you haven't seen anything until you check out Eva zu Beck. She travels to all the places that you 'shouldn't travel.' I've been watching her videos in Syria, Pakistan and Yemen and all I can say is WOW! Watching her videos makes me want to pack up my suitcase and book a flight to Yemen – who would've thought?! This is what travel is about. Breaking down barriers, meeting locals, trying new food, getting out there and exploring undiscovered lands. Not about Instagram pictures. I'm in absolute awe with her content and could not recommend her enough.
Rewilding, by Ella Grace Denton
So I'll firstly admit that I basically love this podcast because I'm in love with Ella's beautiful voice, but once you move past that I love the open and honest conversations she has. She recently posted an episode with her now ex-boyfriend about their breakup and how they're moving on and what it all means to them. I found it honestly so compelling to listen. It was intimate, raw and open, and I fell in love with her authenticity. I would strongly recommend checking out her podcast for some positive female energy and to connect to people spiritually, sexually and emotionally. Ella, please write a book and make it an e-book, your voice is angelic!
🎵Tunes
I've been throwing it back and had Nao on repeat this past month! There's nothing that makes me more chill than her sexy beautiful voice, and it's put me in a good mood each morning before work. Nothing like some smooth rnb to get you in the right headspace.
❤️ Product
Mecca Cosmetic, To Save Face Supersunscreen SPF50+
I have a life saying… 'sun safety is sexy.' And nothing is better than an oily, grease free SPF moisturizer that you can use EVERYDAY! Shout out to my sister Elly for recommending it, and accompanying me into the store to buy it (makeup stores terrify me). This is seriously the best $40 I've spent on skincare. I apply it to my face, ears and neck everyday, and can't believe I wasn't using it earlier!
📝 Quote
Ok so this isn't technically a quote, but it sure is some good advice to listen to and protect your vibe. Sometimes setting strong boundaries is the best way to show yourself and others what you're willing to accept and the lengths you're willing to go to to stay true to yourself.
So I may be writing this post when it's mid-October…. oops. Time gets away. But September, you were great. Thank you for giving me clarity, space and challenges that are attempting to strengthen me. Life doesn't always make sense, but when you have a sense of purpose, it doesn't really matter.